Summer is here. And it's not looking (or feeling great). The hot weather means tons of skin and hair issues, including the thing we all dread – frizzy hair. Of course, with packed schedules, there's not a lot of time on our hands to tame those babies everyday. But on the weekends, when you're unwinding, try out this super easy DIY to un-frizz your mane.
But what is frizz exactly?
According to the all knower, Maester Wikipedia,
"Frizz is hair that does not align with the surrounding hairs, but stands up or curls independently, creating a fuzzy or irregular texture. The three main causes of frizz are genetics, hair damage, and humidity."
Now, we can't do anything about genetics, DUH. But we CAN tackle hair damage and humidity by tweaking our routines. Of course, unnecessary exposure to heat can damage your hair. Opt for air drying your hair rather than blow drying. Don't apply heat on the regular, and cover your hair if you're going to be outside. (hijabis for the win!)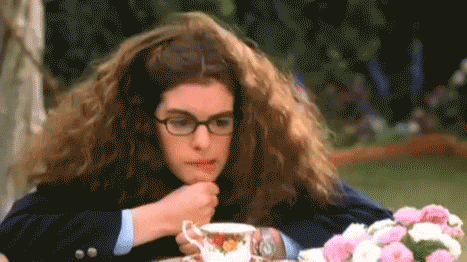 UN-FRIZZ DAT MANE DIY
WHAT YOU'RE GONNA NEED
A bowl
A spatula to mix
½ cup yoghurt
¼ cup honey
1 tablespoon almond oil
WHAT YOU'RE GONNA DO
Taking your bowl, mix your yoghurt and honey till the mixture is smooth AF. Fold your almond oil into the mixture, and then whip the entire thing again.
Apply to your hair, from ends to the roots (you don't necessarily have to apply to your roots.) Put your hair up in a bun or a shower cap, and leave it on for about 20 minutes. Hop into the shower and shampoo and condition as usual.
Voila! Healthy un-frizzy hair – and so easy to achieve!