Although I much prefer to invest in tubes and tubs of products for my skin, one can't deny that a LOT of the times, going the natural route is better. Sure, it can be a little time taking. But what if I told you that there's a DIY mask I apply, which has been clearing all of my summer skin woes. And it barely takes 5 minutes? Snazzy, right?
Remember when we talked about Aloe Vera? Turns out, your favourite green plant is VERY resourceful. (Of course. Duh. That was what the entire article was about.) This "Banish Summer Skin Woes DIY" includes the use of aloe, and one other little guy.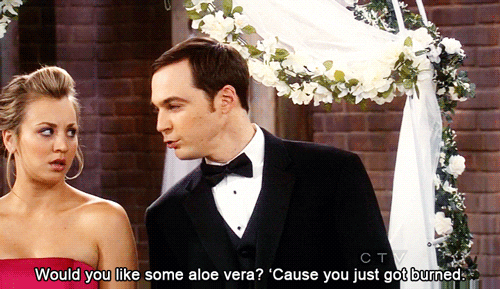 My skin has been acting out ever since the start of summer. Reactions, breakouts, scarring – the works. I have EXTREMELY sensitive skin, so it's kind of annoying that I have to bear through so much just to enjoy a minute of clear skin. So when I decided to conjure up this mask, little did I know it would give me what I wanted.
BANISH SUMMER SKIN WOES DIY MASK
What You Need
A bowl/cup/wherever you want to store the mask.
A ~small~ piece of aloe vera
A slice of lemon
What You've Gotta Do
Grab your container.
Carefully remove the aloe vera peel, and spoon out whatever's in it. (ie, the jelly)
Break up the jelly bits using either a knife or a spoon.
Add a couple of drops of lemon juice.
Mix, mix, mix. Stir, shake, whatever.
Store the concoction in a freezer.
How It Works
I grab my aloe-lemon icicle from the freezer after I've cleansed and toned. The cold temperature depuffs and relaxes your skin, while aloe and lemon work their magic. The aloe vera soothes, and the lemon lightens discolourations, scarring and pigmentation.
I leave the mask on for about 20 minutes or so. Sometimes, I even put on a sheet mask on top to prevent the aloe from dripping everywhere. The combination works wonders. When I use the sheet mask, I leave it on for half an hour, or more. (Till the mask is completely dry)
Afterwards, I remove the mask, and lightly wash my face to remove any excess. You're probably like, wha? But it works for me, so I do it anyway.
Follow it up with my night time stuff, and then it's time to hit the sack!
Let me know if you try out the Banish Summer Skin Woes mask. Record your progress to see if it benefits you!