Sonam Kapoor Style: Maybe she is an answer to your every fashion query
One reason that Sonam Kapoor always takes over the internet is her quirky style. Sonam Kapoor style has never failed when it comes to impressing. She is one of the biggest trendsetters when it comes to Bollywood and is always known for being the one who has always pushed the boundaries on red carpets. Much has been said about her game-changing fashion sensibility and approach to personal styling in collaboration with her sis Rhea Kapoor. From anarkali suits to sequin dresses she exactly knows what all to do, from pairing footwear to her makeup and hairstyle everything is on point. Check out her some amazing looks which will solve your query for fashion and set a new bar of styling for you.
Modern Indian silhouettes are all good but have you ever thought of wearing an heirloom sharara to stand out in a crowd of dhoti pants. If not then you need to think about it if you want to go with something amazing and out of the box.
Living coral may be Pantone's colour for 2019, but there is something about a classic ivory Indian look that personifies ultimate grace. Powerful, strong and tall in what is deemed the most feminine colour.
Actor Sonam Kapoor proved the colour pink is fresh, defiant and even subversive by reinventing the most romantic of colours in her latest outfit. Sonam played up the flirty, retro vibes with her burgundy suede Stuart Weitzman boots and matching burgundy lips.
Sonam looked mesmerizing in her array. Ruby red pout and the winged liner was just plain sexy! It was a full-length off-shoulder gown. To keep the focus on her dress, accessories were avoided. She only wore a pair of earrings.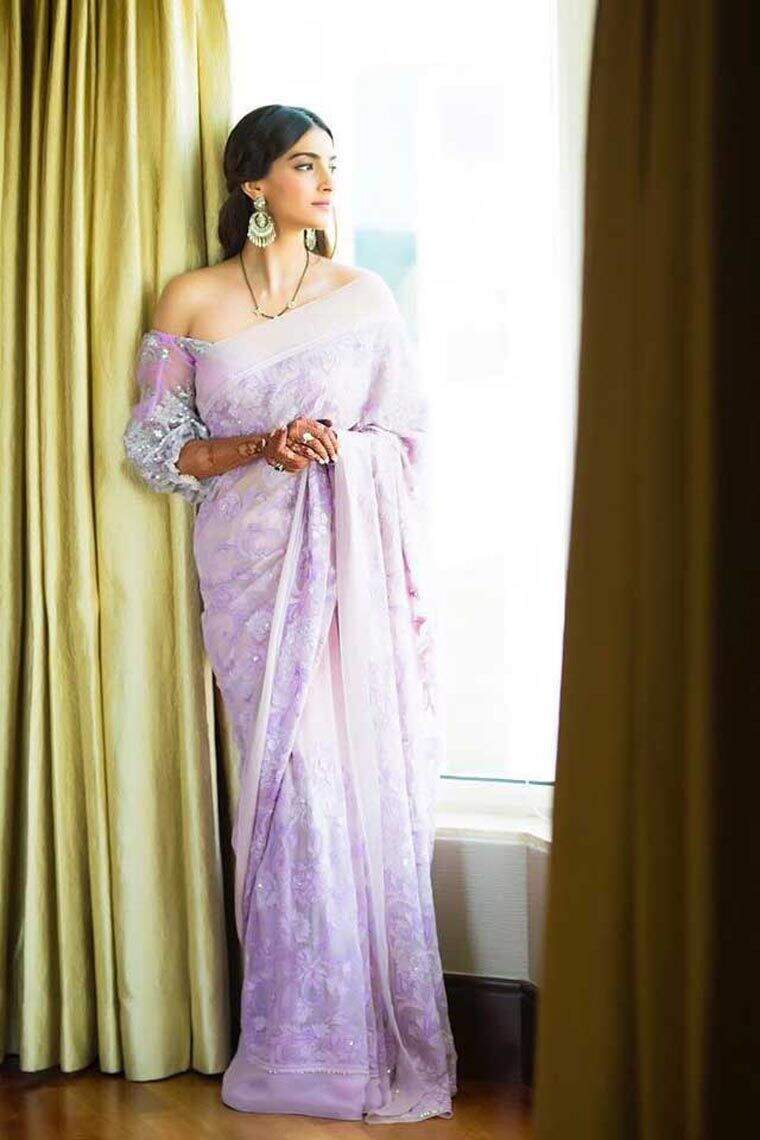 Sonam Kapoor recently snapped in Lavender lilac shadow work saree with crystal embellishment Paired with bishop sleeve lace, off-shoulder blouse by "Shehlaa khan "and she further enhanced her look with short black beeds and statement earrings.
Sonam's latest look that epitomises grace, class, elegance with the right amount of sensuality. Ralph and Russo's gown is a striped one with a knee-high front slit and Chinese collar with two buttons left open. It has puffed three-fourth sleeves in sheer.
The actress opted for a navy blue blazer with handmade embroidery and paired it up with matching pleated skirt. Diva matched her Dalood outfit with crystal heart earrings and shoes from Jimmy Choo. Wavy hair and soft makeup accentuated her look further.'
Stay Updated.