We girls love spicing things up, especially when it comes to fashion. Now, don't get me wrong, it's true that sometimes we love going back to basics with our denims and tees, but experimenting with our style can go a long way when it comes to special occasions. 
Having said this, not everyone is bold enough to don eccentric, avant-garde outfits each time they step out of the house. So, the idea is to find the balance between experimental yet wearable fashion.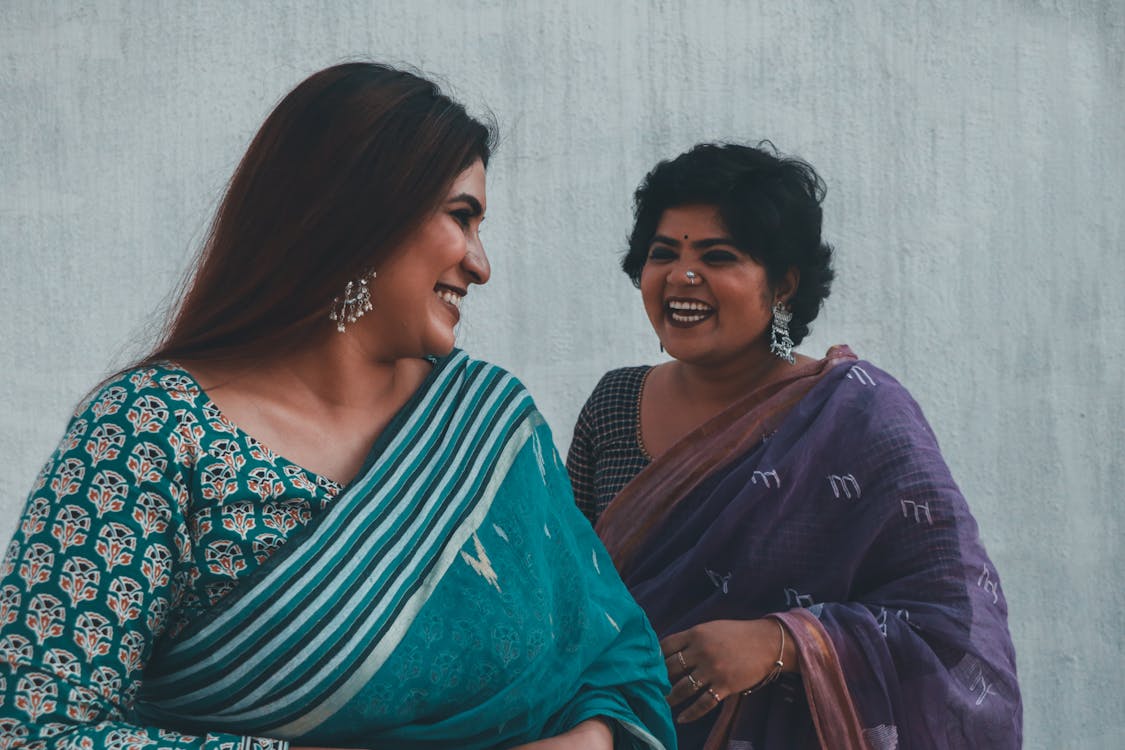 One sure shot way to find this balance is by rocking indo-western looks, especially with women's sarees. Now, while sarees are breathtakingly beautiful in their own classic way, styling them in a different, fun manner can make them more striking and fashionable.
Here we talk about five ways in which you can style your women's sarees to make a statement.
#1 Saree with a Shrug
This is one of the easiest ways to bring more drama and character to your women's saree. Layering a long shrug over your saree adds length and structure to the look, making you look toned and tall. Moreover, it's also a great way to add colour and vibrancy to your outfit and break the monotony of your look. 
You could experiment with print on print or go for a solid shrug for a more wearable look.
# 2 Wrap-around Blouses
Wrap-around blouses were big in the retro era, and many Bollywood beauties were spotted rocking this look at various events. This stunning style has made a bold comeback in 2021, and girls are now donning stunning women's sarees paired with these blouses. This is one of the best options to go for when you're looking to quirk it up without going all out.
You could also slide the saree palla from underneath the front of the blouse for a more structured, defined look.
# 3 Peplum Saree
Who would have thought that the bold, eye-catchy peplum would go so well with the poised, elegant women's saree? Peplum tops are known for adding the right kind of curves to your body, giving it an evident hourglass shape. This, when paired with the ever-flattering saree, takes the ensemble up a notch and gives you a look to die for. 
One of the best ways to rock the peplum saree look is to go for a solid peplum top in a deep hue and pair it with a printed saree in a complementing colour.
# 4 Bold Belts
Belts can add the perfect definition to any outfit. They are excellent for people who struggle to drape their women's sarees in a structured way. Finishing the look with a belt can sinch your waist, giving an incredibly flattering look to your saree. It's also an excellent way to make your look more interesting.
Bold, thick belts go beautifully with girls' saree designs as they can add more visual effect to the look, bringing the right amount of drama to the outfit.
# 5 Corset Blouses
If you want to add a dash of glam to your women's saree, there's no better way than pairing it with a corset. Corsets are excellent for bringing a flattering shape to your body. Pairing a saree with a strapless corset is a great way to add that oomph factor to your look and make a bold and stylish statement. 
This look is perfect for a formal dinner date or even your BFF's engagement party.
There's nothing that brings out a woman's beauty better than these six yards of elegance. However, you must remember to make the right choice and go for sarees that suit your style. You can shop for women's sarees online at various platforms like Snapdeal. It offers Brand Wali Quality Bazaar Wali Deal and has an excellent range of trendy sarees for women. At Snapdeal, you can find something for every occasion and be sure to make heads turn with your gorgeous saree looks.